HUD Raises 2021 Reverse Mortgage Limits by $56,775!
no comments
2021 brings good news for HECM borrowers wither higher value properties.
HUD has announced that the new reverse mortgage loan limit for the HUD Home Equity Conversion Mortgage (HECM) will be raised from $765,600 to $822,375 effective January 1, 2021. The HUD Mortgagee Letter announcing the increase, can be found on the HUD website here: https://www.hud.gov/sites/dfiles/OCHCO/documents/2020-42hsgml.pdf
This is the 5th year in a row where HUD has raised the lending limit. But more importantly than the fact that they raised the limit again the year is the amount by which they raised them.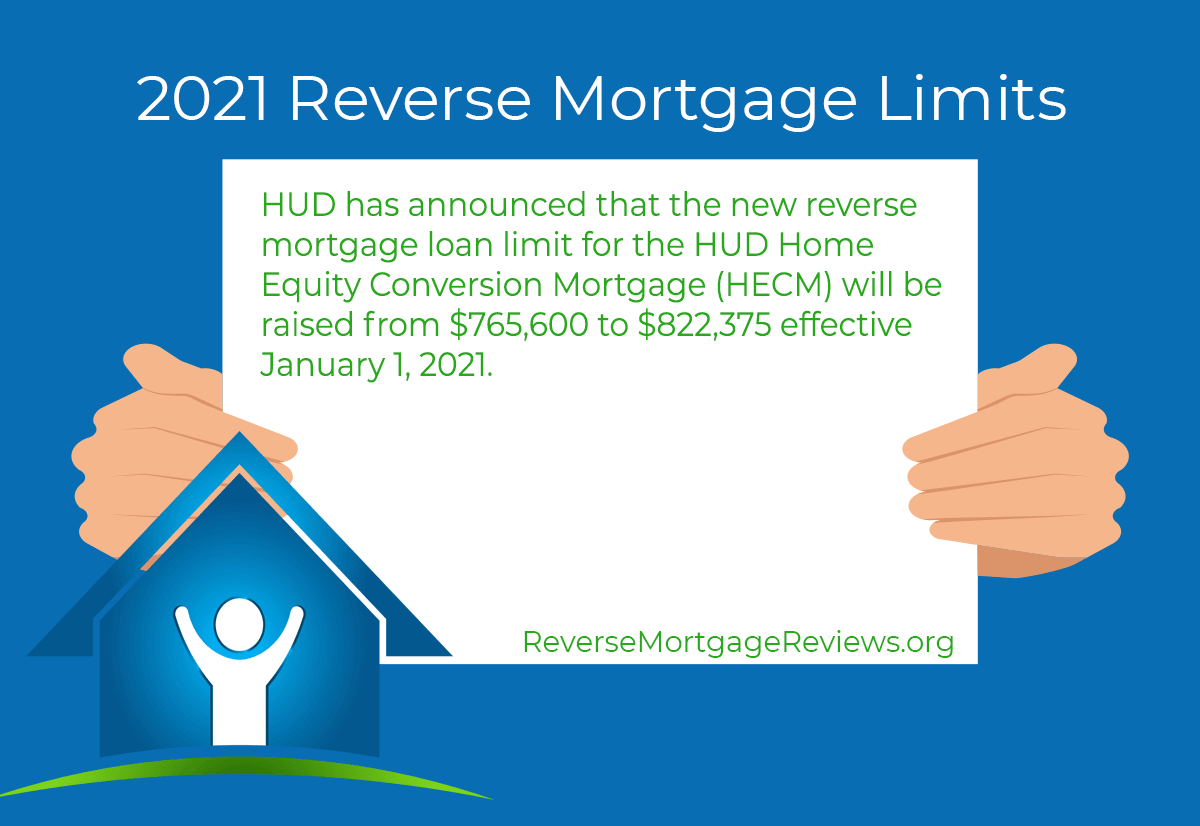 This increase of $56,775 not only represents the largest increase since 2009 when the limits were raised from $417,000 to $625,500 as part of the American Recovery and Reinvestment Act, but it also indicates the home values rose strongly in 2020.
It was not until 2017 that increasing housing prices finally supported increases to the lending limits on their own based on HUD?s calculations and the limits remained stagnant for many years after they were raised as a result of the Act.
It took that long for housing prices to catch up to the increase done in 2009 based on HUD?s normal calculations. What this means for borrowers with higher valued homes means more money available to pay off loans (if you were short funds to pay a loan before, this might get you there), maybe a higher monthly payment if you are taking payments, possibly just extra cash in your line of credit for whatever purpose you have.
But combine the higher limits with the low rates available now, borrowers receive the most possible cash available under the program and for those with higher home values, more than at any other time under the history of the HECM program.
2021 Questions yet to be answered
HUD made concessions with appraisals due to Covid 19 in 2020 and allowed for ?drive by appraisals where appraisers did not need to enter the property to complete their assignment.
This is currently still in effect but for how much longer, we cannot say. Most lenders still offer e-signatures for initial application packages if borrowers would like to sign using electronic signature and not on actual paper files.
You should check with your loan officer to determine other measures that may be in place to assist you with your loan process.
Can you or should you refinance your reverse mortgage?
If you have a current reverse mortgage, by now you have probably received scores of offers to refinance your loan. A refinance can be very beneficial from a rate and loan availability standpoint for many borrowers but not for everyone.
You need to be sure the refinance is to your benefit and that you compare lenders and their offers. Do not take the first one just because you received something in the mail. Make them give you a written proposal with no personal information (except your month and year of birth and a copy of your most recent current statement) and be sure you compare to other companies.
If a lender will not give you a written proposal or says they need something like your social security number just to give you a proposal, we suggest you hang up and call another lender!
What is the outlook for mortgage rates in 2021?
We always tell people honestly that our crystal ball broke years ago but most economists tend to agree that the outlook tends to favor lower rates throughout the year as the Fed has indicated a willingness and desire to keep rates low.
The possible exception always though is if inflation begins to creep up. In the mean-time, with the pandemic fears, the effect it has had on all business but especially small business, Congress and the Fed are looking to ease the impact on the public and higher rates do not accomplish that goal.
Bottom line is that while we still have a lot of unknowns with Covid, possible HUD program changes and the future economic conditions, now is a great time to get a reverse mortgage if you were considering one.
The rates are down, the maximum principal limit is up and if you have a current reverse mortgage, you may be able to lower your rate, your mortgage insurance renewal premiums and possibly get more cash as well (most of the loans in existence have a renewal premium of 1.25% of the outstanding balance so that alone lowers your accrual by .75% plus any interest rate reduction for which you may be able to receive).
Summary
When researching a reverse mortgage, it's important to speak to your family and trusted financial advisor to weight both the pros and cons. Learn more about how a HECM loan might be right for you by contacting one of our top reverse mortgage lenders, or check your eligibility with our free reverse mortgage calculator.